So here's the Proton Aeroback
After two weeks, I'm still enjoying this slice of motoring history. Bought with 12-months MOT with a genuine 43k on the clock from two former owners. The last owner was apparently a fastidious retired engineer so he personally kept it in good condition.
As a precaution anyway, I've treated it to a new cambelt, tensioner, waterpump, coolant change, and new aux belts, plus oil and filter change. Thanks to se325919 for all his help with parts and advice. I've fixed the driver's door interior light switch and replaced the courtesy light bulb.
All the electrics work fine - front windows, cigar lighter, heater controls, etc. It drives beautifully and not how you'd imagine a 25-year old car to be. It does need a spot of welding underneath as per an MOT advisory but I know some honest old-skool mechanics who will sort that.
I've promised the former owner's daughter that I'll get it back up to spec (she was worried it would fall into the hands of banger racers!), and hopefully it'll live on a few more years unless Govt MOT rules force it off the road.
It's only intended as a stop-gap as it was cheaper than hiring a car, but who knows, I might keep it for longer?!
A few pics to get you drooling:
From the back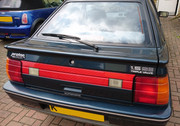 From the side: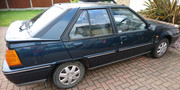 Inside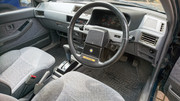 All the best :-)